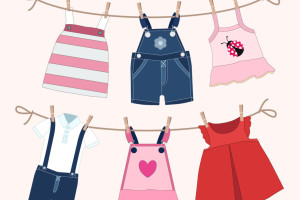 Clothes
Baby Room
0-6 months
6-12 months
Main Hall
1-2 girls
1-2 boys
2-4 years girls
2-4 years boys
4-6 girls
4-6 boys
6-9 years girls
6-9 years boys
9-13 years girls
9-13 years boys
13+ girls
13+ boys
Delivery and Collection
Delivery of goods to sale
• There is no need to register pre sale.
• Items should be delivered to Esher College gymnasium between 8.30-10.30 am on the date of the sale.  Please note that no items will be accepted after 10.30 am.
• Everything except large toys, furniture and equipment must be in cardboard boxes. (Please do not bring items in bags as we need all the boxes to sort the unsold items into at the end of the sale – otherwise everything will be in heaps on the floor).
• You must sign in goods using the name on your labels.  Please also provide your contact telephone number and your email address in case of queries after the sale. 
• Large equipment should be put in the 'lecture theatre' adjacent to signing in tables.
• You will be asked to carry your boxes of clothes, toys and books to the gymnasium where we will unpack them.
• You will collect a slip of paper reminding you to collect your unsold goods the same afternoon and details of money collection the following Thursday.
• Bank details may be left by out-of-area sellers when signing goods in, and a bank transfer will be made at no charge once labels and money have been processed.  
Collection of goods post sale
• Unsold articles must be collected from the sale on the same day between 6.00-6.30.  We are happy for you to arrange for a friend to collect your unsold items (or your money), but please be aware that, by doing this, you lose the opportunity to check on the Rejected Items table at the end of the sale, and the Lost Label items at money collection.  Uncollected items on the Reject table are taken by the charity after the sale on Saturday evening;  the Lost Label items will still be available at the time of money collection on Thursday.
• Large equipment should be collected from the 'lecture theatre' adjacent to signing in.
• Check contents of your box in case anything with similar name has been put in your box (it's a long day and we sometimes make mistakes).
• Lost Labels:  Unfortunately some items lose labels during the course of the day.  At the end of the sale these items will be placed on a separate table that is clearly­­­ marked "Lost labels".  When you collect your unsold items, please make sure you check whether there are any of your items on this table.
• Unseasonal/rejected items will be placed on a separate table – again check through in case you need to collect anything.
• Please take everything of yours home with you (including the box).
• Any items not collected by 7pm will be donated to Shooting Stars, a local charity, and removed from the hall immediately.
Collection of money
• You will be given a slip with details for money collection which is usually the Thursday following the sale. Should you lose your slip then please email for details.
• 25% of proceeds will be deducted from your total sales and donated to Cancer Research UK.
• Money not collected is assumed to be a donation.